This is fantastic!
I would like to also place this interview on our Website, if I may.
---
Posts: 45
Joined: Sat Sep 10, 2011 10:15 am
cool interview!! i love john and most people on our
piano classes
loves him.. he is one of my inspirations for piano playing..
---
[RE-POST OF ZANE'S ORIGINAL THREAD ENTRY]
(This time, to save uploading photos: images are of only the first and last pages, with text posted in between; and in 1987, I finally got around to have Mr. Steinway sign off the interview transcription as approved.)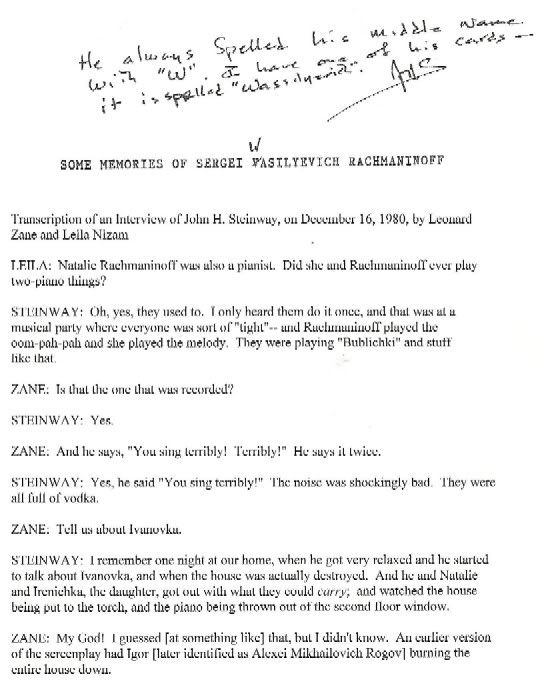 STEINWAY: Well, it happened! They got away from the house. She had some jewelry and he had a briefcase with some things, and they stood in the woods and watched the house being destroyed.

ZANE: The Russians said only that Ivanovka was "destroyed in the Revolution" but not when, or that he was there! There is no history on it. The Russians blamed it on Antonov.

STEINWAY: Who the mob was, I don't know. But he was there! And he described the scene! He described watching everything they owned and loved being torn apart. And they took off with what they could carry.

ZANE: So it did happen! I thought, no I wanted to be very accurate. I told Leila I can't be sure that happened, and everybody's going to accuse me of being "Hollywood", and so --

STEINWAY: Well, I heard him tell that story. It did happen. And that was just before he got out [of Russia] in 1917. Did you [Zane] consciously not mention his connection with the Russian Imperial Family?

ZANE: Well, I knew he needed approval from the Tzar to get married.

STEINWAY: He actually taught the [Tzar's] children.

ZANE: No, I didn't know that.

STEINWAY: I know that when that gal who claimed she was the youngest daughter [of the Tzar] was in this country, Rachmaninoff was one of the people who saw her and talked to her.

ZANE: You mean Anastasia?

STEINWAY: Anastasia. And he said it wasn't her; she was not one of the Tzar's little girls. He was their teacher, he gave them all music lessons, and so he knew all the Imperial children.

ZANE: I also never mentioned the connection he had with "Re", who was a woman named Shaginyan, or the affair that he had with Nina Koshetz!

STEINWAY: That was the next question I had! I remember that!

ZANE: Well he enjoyed it, I guess. When they were in Russia, in the Crimea, he had a good time with her.

STEINWAY: She still carried on with him over here for some time after that. She performed here with him she got really fat from too much eating! And he was such an awesome man, you know he was so tall, and had those huge hands.

ZANE: Stravinsky called him "a six foot four inch [sic. Actually six-and-a-half-foot] scowl"! But with those hands, he could play his Third Concerto. Leila once played the Second and the Third on the same program!

STEINWAY: You know it was dedicated to [Joseph] Hofmann.

LEILA: I know, and he never played it.

STEINWAY: Because it was too difficult!

ZANE: Did Hofmann ever say anything to you? What did he say?

STEINWAY: He said "I'll never play it. It's too difficult!"

ZANE: Well that kind of difficulty, yes. With another kind of difficulty, when Hofmann played the Chopin Second Sonata, Rachmaninoff said [impersonating] "Well, there goes another piece out of my repertoire!" Oh, that's another thing: I would very much like to hear your imitation of Rachmaninoff. What did he sound like? How did he talk?

STEINWAY [imitating, with Russian accent]: Well, he had verry deep voice and thick Rossian ahccent; and always spoke verry slow like thees. I think because he was translaating from Rossian to Eengleesh. But sound like that.

LEILA: It's good to know that because that's something we'd want to be able to get right.

STEINWAY: I remember going backstage at the old Bushnell Hall in Hartford, once when I was a schoolboy. He played a Sunday afternoon there with Gregor Piatigorsky in the Bushnell series. I went backstage afterwards, and he said "Yes, send in young Mr. Steinway," so I came in before the crowd. He was sitting in the dressing room, and he right away took out a cigarette case to have a smoke together. And he had this cigarette case and he said [imitating] "My doctor tell me to cut in half my smoking," and in the case were cigarettes cut in half. And he put one in a cigarette holder, and smoked it right down to the nub, and then put in another so what was the difference?!

ZANE: What do you remember as a boy, when they [the Rachmaninoffs] would come to visit?

STEINWAY: Well, they loved to come to our home for dinner when in New York. He never wanted any guests, because he liked to just sit, and he adored children. And there was activity going on children running up and down the stairs, and so on. And he was very fond of our little sister, Betty (Betty Chapin -- Mrs. Schuyler Chapin). Betty, when she was small, was a very fat little girl with little pigtails. [Imitating] So he would have serious conversaations with Baytee -- when she was six, seven, eight years old.

ZANE: What did he say?

STEINWAY: I don't know! I was in school, but he was quite fond of her and very worried about her because she was too fat. He felt she should slim down, which she eventually did.

LEILA: Sounds like a good father.

STEINWAY: He was a wonderful human being. He loved people, he loved the little things of life. My mother was a very good cook, and she would prepare jams, and send him a Christmas present. And I heard from Irenichka, later on (one Christmas, mom sent out a little box with a bunch of homemade jams and jellies -- including a jar of wild blueberry); and Mr. Rachmaninoff tried this, and he put the cap on and put it aside and said "That is for me!" And nobody else got any!

But -- he was a quiet, introspective man. He didn't talk. It was very rare that he would really start to talk. And I would remember very well what he said when he did talk. Like when he spoke of the Revolution and the leaving of Russia.

ZANE: What would you like to see different in the screenplay?

STEINWAY: I'm a hell of a one to ask, because I really don't know.

ZANE: Well, the reason I ask you is that if I were you, and I knew this man and he was such a great man, and a special man, and somebody like me shows up -- some young fellow -- well, I was alive when he was alive... But I would probably feel very proprietary about this, and I'd want to make sure that what was done was a proper credit to the man.

STEINWAY: What interests me is that his music is so well known and played so much nowadays, that for the young people, here is a story about the individual who created that music. I'm getting along in years now, and there aren't too many people left who even remember him. And it doesn't really make any difference. What makes a difference is there was a human being who went through all of this, who made all these beautiful things: concertos, sonatas, songs... What kind of man created such a variety of music? I really wish someday that some orchestra would put on a real Rachmaninoff festival and play all of it!

You know, once when he was in New York to play his Paganini Variations (this story comes from Sasha Greiner -- Sasha was backstage), they got mixed up; they started off with different variations! And they finally got back together again and completed the work, and Sasha was backstage, and Rachmaninoff walks backstage, and says to Sasha in Russian: "Who did it -- he or me?" And Sasha said, "I'm sorry, master. You did it!" He started the wrong variation of his own work!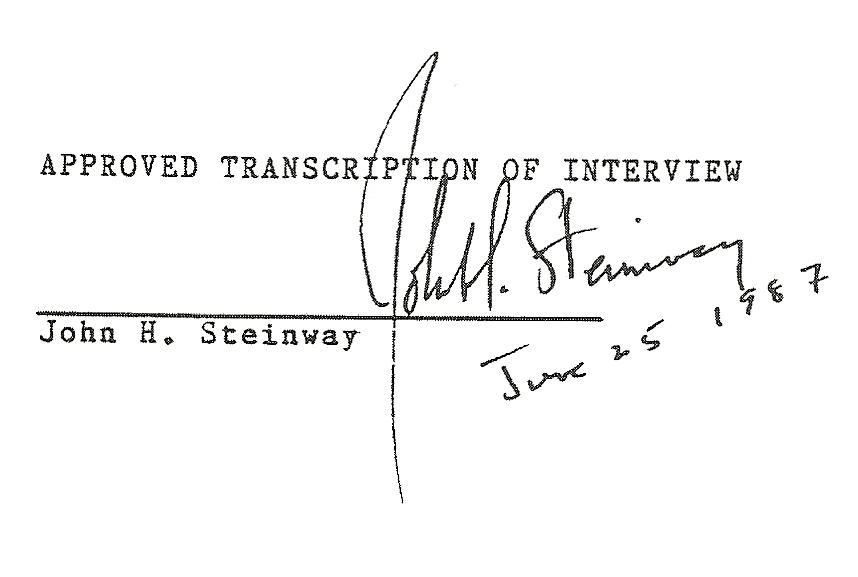 ---
---
Return to "The Life of Sergei Vasilyevich Rachmaninoff"
Who is online
Users browsing this forum: No registered users and 1 guest